VISIT Way2fit
We believe group strength and conditioning for everyone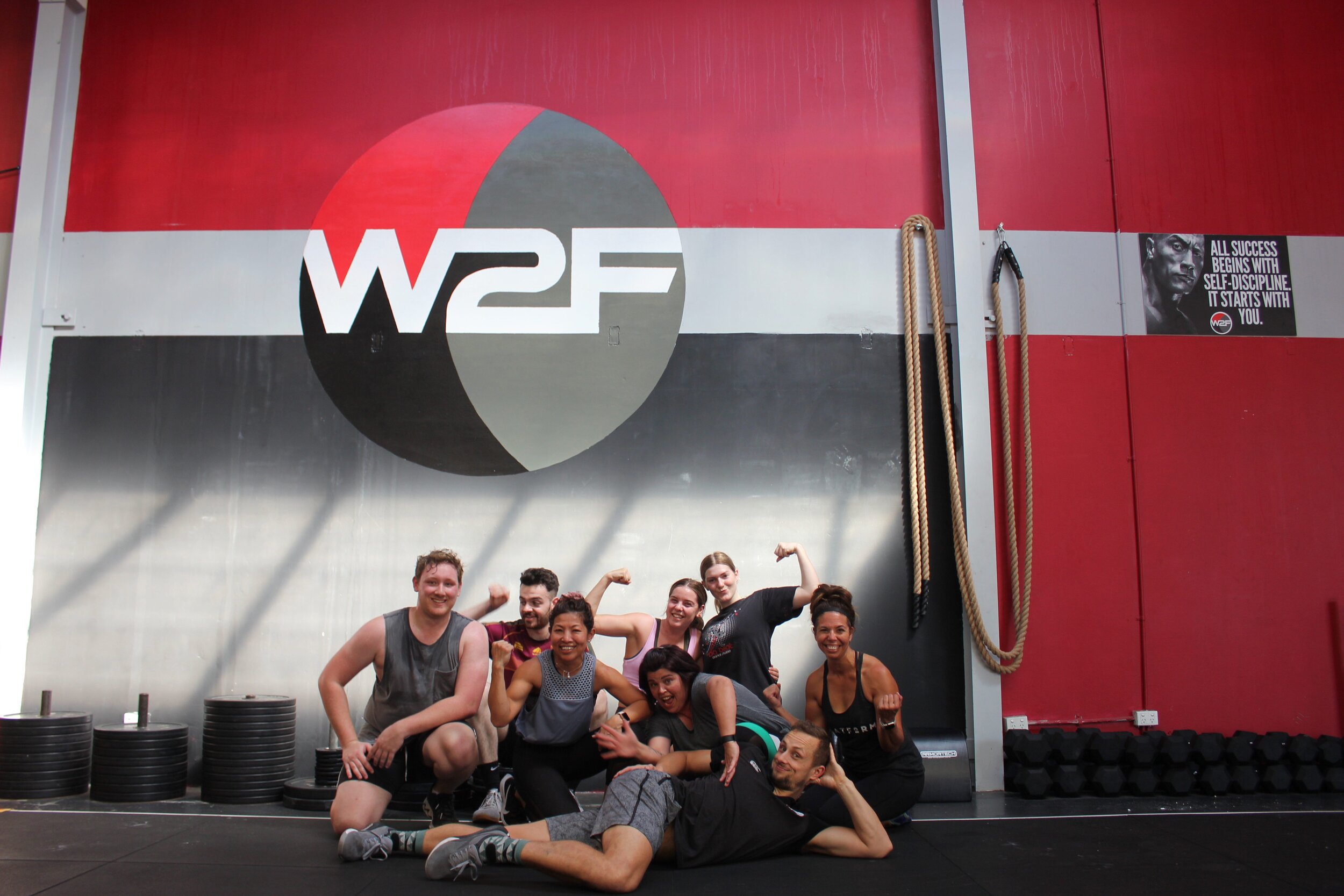 Way2Fit is a unique group strength and conditioning facility. Our training facility is a state-of-the-art functional fitness gym in the heart of Joondalup. Our strength and conditioning coaches are some of the best around. We use an original program and quality coaching to get you results faster.
WHY WAY2FIT?
Most people who start WAY2FIT are bored and stale with their fitness program. They want results for the time they spend training while having fun with a great bunch of everyday people.
COMMUNITY
At Way2Fit we cater to all fitness levels. Our family is made up of everyone from beginners and mums to athletes. We love our community, know everyones name and ensure an encouraging and welcoming atmosphere.
PROGRAMMING & COACHING
We pride ourselves on the highest standards. Our coaches focus on delivering superb sessions. Great coaching ensures better results and keeps you safe from injury. Our programming constantly varied and fun!
WE'RE AFFORDABLE
You shouldn't have to pay personal training prices to get the personal care you need. We do everything a PT would do for you but better and at a fraction of the price.
REGISTER FOR A FREE TRIAL
READY TO FIND YOUR WAY 2 FIT ?
What is Way2fit?
Most people who start Way2fit are bored and stale with their fitness program and want results for the time they spend training while having fun with a great bunch of everyday people. Our location in the heart of Joondalup and the northern suburbs.
Way2fit is designed to make your body look and feel the way it was designed, feel proud and confident with your appearance. Our programming at Way2fit Joondalup is designed to strengthen and condition the body by using specific exercises for targeted muscle groups and make you look terrific. Exercises include anything from tyre flipping to skipping, squatting and rowing. The goal is to make you feel like a complete and healthy person by increasing your fitness levels and muscle strength, endurance and flexibility. You will never look back!
Way2fit is for everyone, we have a broad range of ages and manage pre existing injuries as part of our daily programming and coaching. Most people who start with us have had injuries and found that Way2fit has helped them over come and prevent further issues. We have people from 12 year olds through to 60 year old women and state footballers all training together and supporting each other. So no matter what your fitness level, this high-intensity workout is guaranteed to make you sweat!
Way2fit (Joondalup) was established in 2015 and makes working out enjoyable. Our coaching team offer Way2fit group fitness classes in the early mornings, afternoons and evenings to suit different schedules.
Personal Training
Our gym offers personal training sessions for fitness in Joondalup and fitness Northern Suburbs, Way2fit fundamental workshops and group and mobile classes. Individual coaching is great for people who need to achieve a specific goal whereas the group classes are aimed at increasing overall fitness.
WAPOL and Military Fitness Preparation
One of our specialties is preparing people for WAPOL, police, SES and Military fitness. We understand preparing for courses and testing can be daunting, through our experience training candidates we have successfully helped people not only pass the testing but be well prepared for the physical and cognitive challenges ahead. Our preparation training can be done through personal training, group classes, online programming or a combination.
We strive to make people feel comfortable and accomplished, joining Way2fit is one of the best decisions you can make to change or improve your lifestyle.
Fitness Northern Suburbs
Joondalup Fitness
Fitness Joondalup
Fitness classes
Personal training
Federal Police and FESA preparation
WAPOL preparation
Military fitness preparation